Edit Day
On this page
---
Introduction
This short guide will explain what you can do with the Edit Day screen, and help you to use it's functions to make recording your workers times easier.
With the Edit Day screen you can:
Add new times
Amend existing times (only times entered by WTD methods* can be altered here)
Assign an agency to a duty period
Assign a site to a duty period.
---
The Timeline
The timeline at the top of the screen represents the workers events. One whole day is shown in the centre, and either side shows 12 hours back and forwards. You can move between days using the arrows on both ends.
Each section of colour on the timeline is a duty period, to view a period click once and the events are loaded in to the Period Details section (see below).
---
Period Details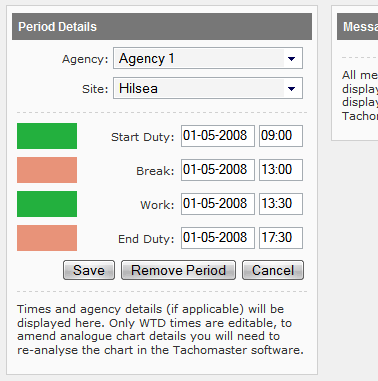 After selecting a Duty Period in the timeline the Period Details section will display all the events in that period, as well as (if an agency worker) the agency the driver was with and the site responsible for the duty period.
Any Tachograph times in this section will not be editable. To amend analogue tachograph times you must re-analyse the chart in the Tachomaster software, digital times from a drivers card can not be amended.
If times in this section have been created by WTD methods* you can make changes here. Once any changes are made, whether times, agency or site, click Save to commit the changes.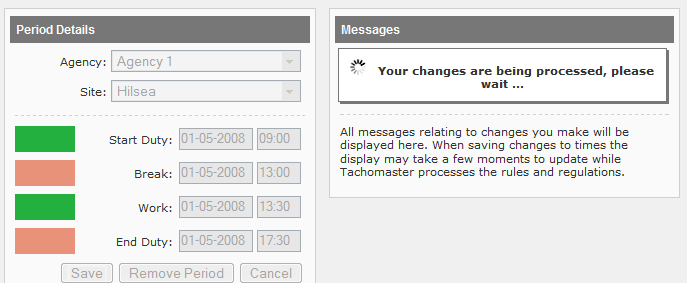 After clicking Save the changes are made immediately. The display will show that the changes are being processed, this may take from a few seconds to a few minutes depending on the changes made. It is important to note that you do not have to wait for the process to complete if this is the only change you are making. Simply move away from the page and the processing will continue in the background.
---
New Events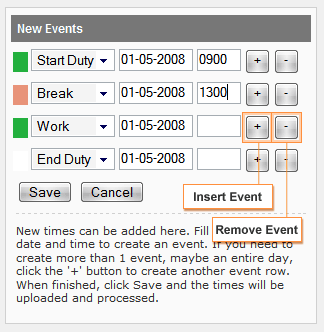 The New Events section will allow you to add new events to a workers diary. Initially you are shown an Add New Events button and a drop down list showing a number of duty templates.
Clicking the Add New Events button will allow you to create 1 or more events however you need. Using the templates will automatically populate the new events list allowing you to just fill in the times.
On the new events list there are 2 buttons on each row, '+' and '-'. Using these buttons you can insert new events in to the existing list, or remove events you don't want.
When you are happy with the events listed, click Save. If there are any problems they will be displayed, and if everything is ok the events will be processed. The processing may take a few moments.
* WTD methods include: manual entries made on the website, mobile phone, software kiosk mode.