Mac Driver Card Reader Application
For Apple Mac OS X users Road Tech supplies the Mac Driver Card Reader Application. This is a simple utility that will allow you to read driver cards directly from a card reader and upload them to Tachomaster for analysis.
The application can be downloaded [here](http://www.tachomaster.co.uk/download/#mac-reader).
---
Download the application and run the TachomasterCardReader.pkg file. Follow the on-screen instructions.
The Tachomaster Card Reader will now be found in Applications, run the application to start.
You may log in to the application using either your Tachomaster User username and password or if you are a driver, you may use your User ID and PIN that have been issued to you. If you enter incorrect logins the labels will turn red and you will need to check your details and try again.
---
Once logged in you will see the screen below:
The text "Insert Driver Card" indicates that the card reader is ready and waiting for a driver card. If you have no card reader attached or it is not installed correctly you will be informed that no card reader could be found - restart the application once you have rectified any problems.
---
Insert your driver card to continue:
The progress will be displayed until the driver card has been read completely, this will take a minute or more.
---
Once finished you will see the screen below: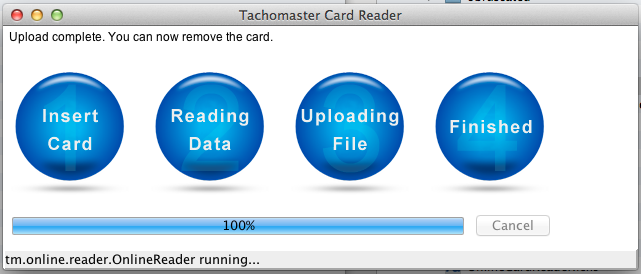 At this point the driver card data has been sent to Tachomaster. From here, one of two processes take place:
If the driver already exists on Tachomaster and is recognised the driver card data will be analysed
If the driver is not recognised on Tachomaster an outstanding Upload will appear for users logged in to the Tachomaster website.
For the second scenario a user must log in to Tachomaster and select Uploads from the main menu. From here the new driver can be created.