Manual Infringements
On this page
---
Introduction
It is possible in Tachomaster to add user customisable Infringements, Warnings and Notes to a Worker's Day. We call these as a whole, Manual Infringements. These types of events do not cause increased points in regular Tachomaster reports (for example the Management Report or Infringement Letters) but do show in the Worker Calendar and DCRS.
---
Manual Infringement Set-Up
You can add and amend the Manual Infringements available through the main menu -> Tools -> Add/Amend -> Manual Infringements:
From this screen you can see any existing Manual Infringements. The Type can be one of Infringement, Warning or Note and the number of points define what effect it will have on DCRS (if enabled).

From here you can click Add new Manual Infringement.
---
New Manual Infringement
To add a new Manual Infringement:
Select a Type. This will define how it is displayed in the Calendar, and only Infringements will have an effect on DCRS
Enter a Description
Enter a Detailed Description - if you do not enter one, the Description will be used
Enter a number of points up to a maximum of 5 points.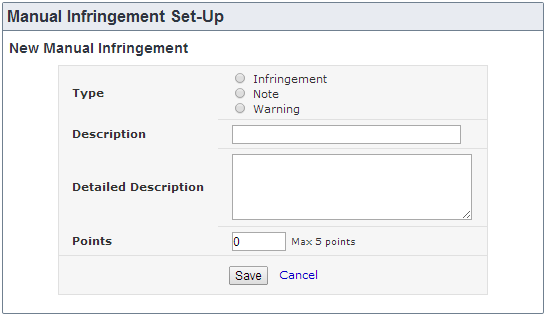 Click Save when done.
---
Add New Manual Infringement to Worker
Enter a new Manual Infringement against a worker through the Calendar Tacho Day View. With the list of activites, hover over a tachograph activity and see the pin appear on the right hand side:

Click this pin.
You will now be presented with a form to enter the details - the time will have been filled out for you at the time of the activity you clicked.
Select the Infringement, Warning or Note from the list and enter a Comment - click Save when done.
Tachomaster will now parse the new information to bring everything up to date, this can on occasion take a minute or so.
Refresh the page after a few moments and when the data is processed you will see your new infringement in the list of activities: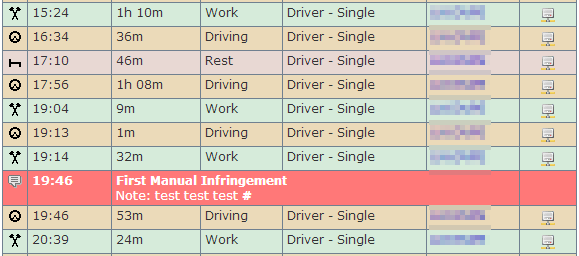 ---
User Permissions
The ability to add/amend Manual Infringements and to add Manual Infringements to workers is controlled by the User Profiles. 2 entries exist for Manual Infringements:
Manual Infringements (Tools) - This controls who can access the Manual Infringements screen on the Tools menu
Manual Infringements (Data Entry) - This controls who can add and delete Manual Infringements on a worker's Calendar Day View.